File Prep
LAYING OUT YOUR DOCUMENT
The outer edge of the artwork is considered a "safety area" that is utilized for cutting. No important images or text should be placed within this area. Although an 1/8 (.125) of an inch is the minimum, we strongly recommend you use a 1/4 inch (.25). Here is an example of the correct way to submit your files: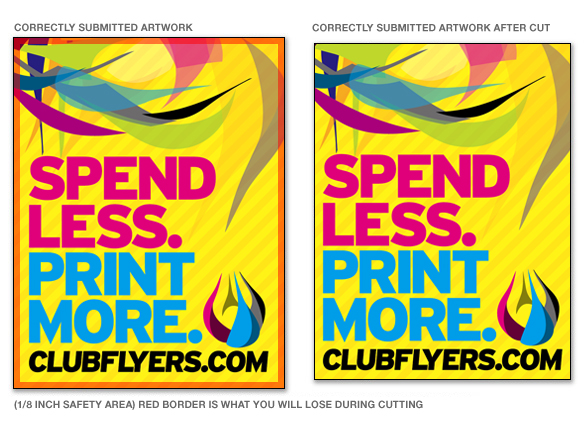 KEEP YOUR TYPE IN!
This is an example of how the same file can be submitted incorrectly. If you notice, the file was designed with all of the type and important graphics right up to the edge of the canvas. This results in the cutting of logos, fonts, and important graphics. This is an example of how NOT to submit your files: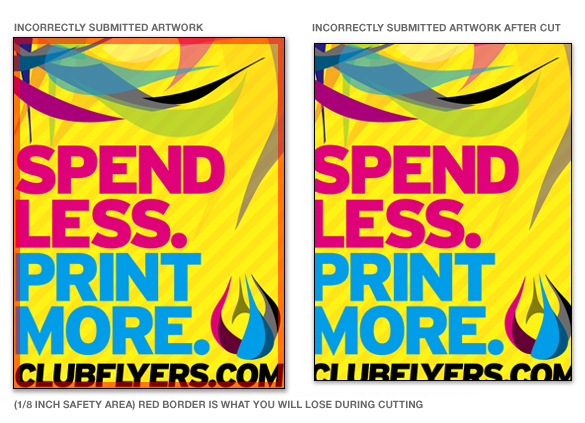 REMEMBER!!!
Any flyer or postcard you purchase from Clubflyers.com needs to be cut out of a bigger sheet before we ship it to you. This means that a 4 x 6 Postcard will have to be trimmed down when cut. The end result will be a product which is roughly 3.875 x 5.875 inches. This is true of all of our sizes except Business Cards cards which actually trim true to size at 3.5 x 2 inches. If you are not clear on our cutting process please call a Customer Service representative for further explanation.