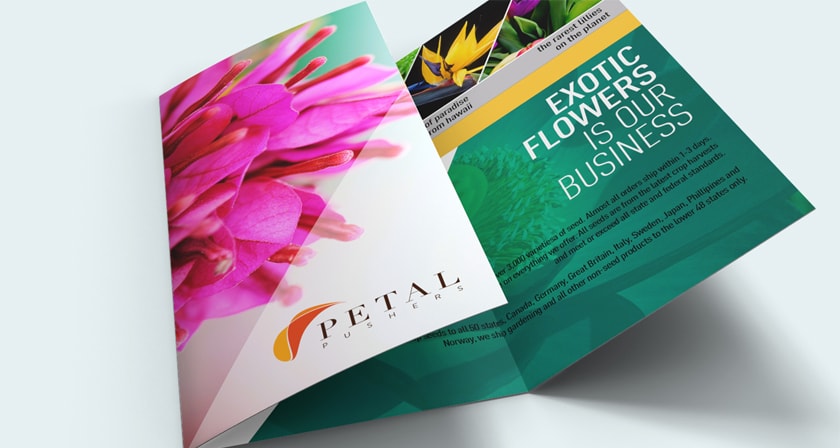 Brochures
8.5 x 11"
Our brochures are a fantastic way to display
information and graphics about your company.
High quality look and feel
Thick and thin paper to choose from
Multiple folding options
Custom 8.5 x 11" Brochure Printing
Now 10% OFF!
Pricing
Size
8.5 x 11 inches
SIZE
In order to make your print buying process as easy as possible, we several options of our most popular sizes as standard products. The 8.5x11 Brochure is the most popular size.
If you are interested in a size different than that displayed in our Brochures section, please fill out the Custom Quote Form or contact us at 800.433.9298 so that a customer service representative can provide you with proper pricing on your order.
Dimensions
11.25 x 8.75 inches
285.75 x 222.25 millimeters
3375 x 2625 pixels
Change
Quantity
5,000
Quantity
All products on ClubFlyers.com are printed in the increments listed in the drop-down menu. Please note that when changing quantity options, other options such as turnaround and coating may change back to default settings.
If you are interested in quantities greater than those shown, please fill out the Custom Quote Form and a customer service representative will provide you with pricing for your order.
Change
Paper
100# Text Gloss
Paper
Brochures and posters are printed on our standard 100# Text Gloss Stock or you can upgrade to our 11pt Thick Cardstock.
11 Pt. Cover
11 Pt. Cover stock is a heavier paper that retains crisp fold lines and holds its shape when unfolded. It is durable and withstands handling without creasing.
100# Text
100# Text paper stock has a substantial weighted feel, but is still flexible to the touch. Its weight is the equivalent of five sheets of regular printer paper.
Change
Coating
No UV - Low Gloss
Coating
UV High Gloss
UV Coating is a high-gloss finish with a laminated feel and sleek appearance. It improves durability, making print less susceptible to smudging and abrasion.
No UV Low Gloss
Also known as No Coating, No UV Low Gloss still retains a slight gloss, and allows for writing directly on your print with pencil, pen or Inkjet printer.
Spot UV
Spot UV is a coating that is applied to chosen areas (spots) of a print, highlighting that part of the design as it reflects the light and adding texture.
Change
Colors
2 Sided
COLORS
By selecting Full Color Both Sides, this means that your piece will be printed on both sides in full color (photo quality CMYK printing). 99% of ClubFlyers.com print orders are printed with the Full Color Both Sides option. If you are not clear on our color options please contact us at 800.433.9298 so that a customer service representative can provide you with further information.
Change
Folding
Tri-Fold
Folding
The folding diagrams describe each fold. We offer more options on the larger brochures as there is more space. The double fold and double parallel fold are available on 100# text.
If you are not clear on our folding options please contact us at 800.433.9298 so that a customer service representative can provide you with further information.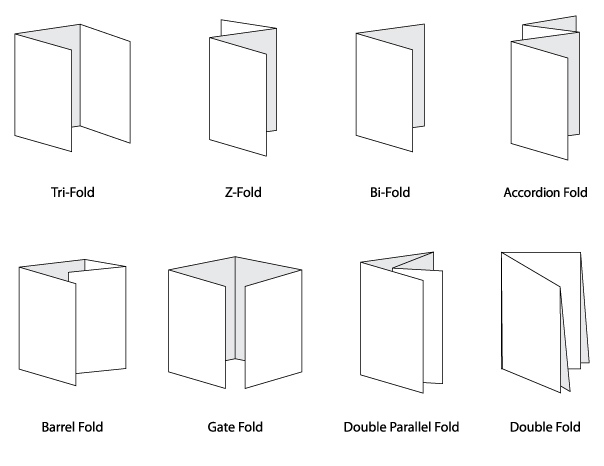 Change
Perforation
None
Perforation
If you are looking for a tear off panel you can select a straight perforation. Typically, this is to allow a fill out card to be removed.

Change
Artwork
Upload Print Files
Artwork
Either Upload your artwork at the end of the ordering process or we can design it for you. You are in great hands! We will come up with an eyecatching design that you are sure to love. Our design team will make the process stress free and go beyond your expectations.
If you have any questions about design, please contact our Customer Service Department at 800-433-9298.
Change
Printing Turnaround
6 Business Days
TURNAROUND
Our standard Turnaround Time policy is in by 8pm, out by 8pm. What this means is that your order will be ready to either ship out or pick-up by 8pm EST on the last business day of the printing turnaround time that you have selected. The process will begin once your artwork has been approved by our artwork department. Our Artwork Department is open Monday through Friday until 8pm EST. Below are some examples of our Turnaround Time policy. For a detailed look at our Turnaround visit our Turnaround and Shipping.
Below is our schedule of production. In order for your order to be considered PLACED TODAY, your order must be submitted and approved by our staff by 8pm EST Monday through Friday. Please take our schedule of production into consideration when selecting your shipping preference: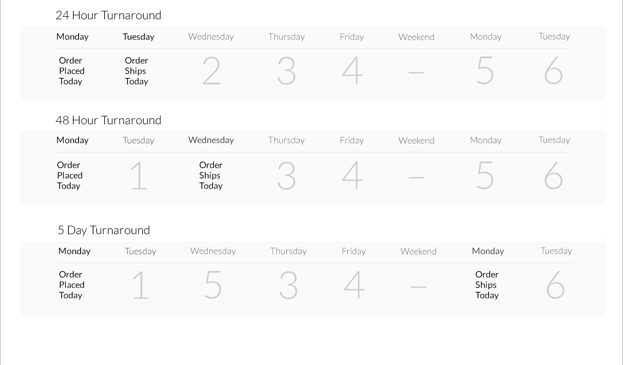 More Info
Change