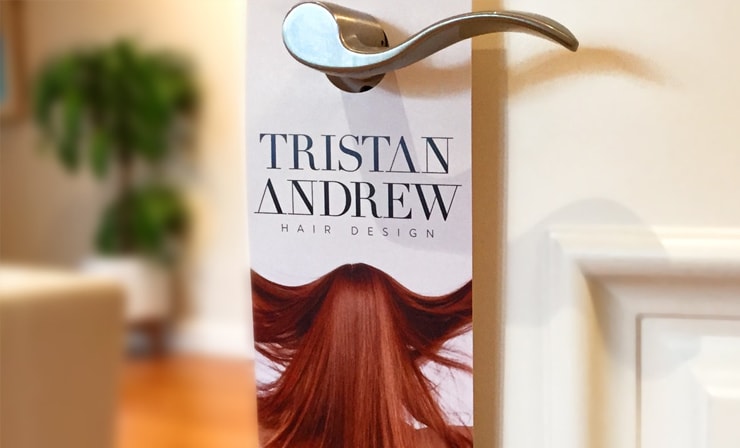 Door Hangers
4.25 x 11"
A fantastic way to let the locals know all about you.
Professional quality printing
Try Spot UV for an added pop
Custom shapes and perforations available
Custom 4.25 x 11" Door Hangers
Hotels
Print die cut Door Hangers that match your branding and let them be a creative conversation piece that adds charm to your guests stay.
Delivery Restaurants
Canvas neighborhoods near your establishment and leave menus, coupons and specials via Door Hangers to increase traffic and orders.
Real Estate
If you want to drum up new leads in specific areas, Door Hangers with perforated Business Cards attached are ideal for networking.
Advertising Services
Own a service business? Door Hangers are great for letting people know about your landscaping, plumbing, and handyman services.
Economy
11 Pt. Economy cover stock is a heavier paper that retains crisp fold lines and holds its shape when unfolded. It is durable and withstands handling without creasing.
11 pt.
Standard
A traditional thick paper stock, 14 Pt is an industry standard. It is resistant to bending and able to withstand wear. Ideal for print that will be handled frequently.
14 pt.
Heavyweight
An ultra-thick stock that lives up to its Heavyweight moniker. It is a weighted paper that can be die cut, will retain it's shape, and is hardwearing and sturdy.
17 pt.
UV High Gloss
UV Coating is a high-gloss finish with a laminated feel and sleek appearance. It improves durability, making print less susceptible to smudging and abrasion.
No UV Low Gloss
Also known as No Coating, No UV Low Gloss still retains a slight gloss, and allows for writing directly on your print with pencil, pen or Inkjet printer.
Spot UV
Spot UV is a coating that is applied to chosen areas (spots) of a print, highlighting that part of the design as it reflects the light and adding texture.

Uploading your own artwork?
Use these templates to guide you.