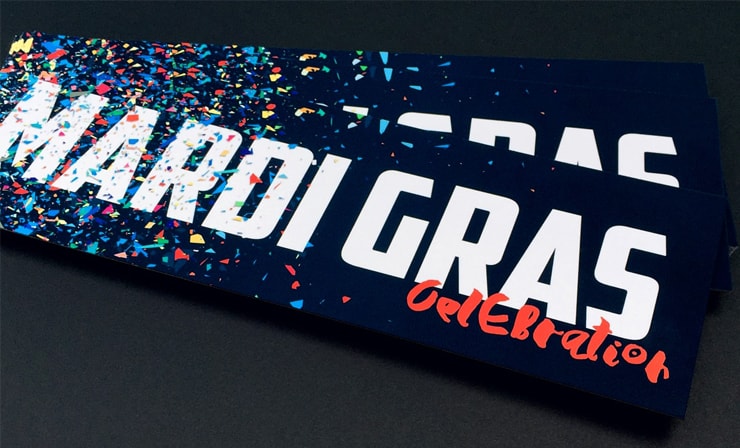 Event Tickets
2.75 x 8.5"
Bring them to your door in style with
these custom tickets
Perforation and numbering available
Multiple paper stocks available
Custom 2.75 x 8.5" Event Ticket Printing

Now 10% OFF!
Pricing
Size
2.75 x 8.5 inches
SIZE
Tickets are cut out from a large sheet before we ship it to you. Please see the cut size below for each size.
Dimensions - 2 x 6
2 x 6 inches (Cut to 1.85 x 5.85)
50.8 x 152.4 millimeters
192 x 576 pixels
Dimensions - 2.75 x 5.5
3.5 x 8.5 inches (Cuts to 3.35 x 8.35)
69.85 x 215.9 millimeters
264 x 528 pixels
Dimensions - 2.75 x 8.5
2 x 6 inches (Cut to 1.85 x 5.85)
69.85 x 215.9 millimeters
264 x 816 pixels
Templates can be found here in order to upload your own artwork.
Change
Quantity
500
Quantity
All products on ClubFlyers.com are printed in the increments listed in the drop-down menu. Please note that when changing quantity options, other options such as turnaround and coating may change back to default settings.
If you are interested in quantities greater than those shown, please fill out the Custom Quote Form and a customer service representative will provide you with pricing for your order.
Change
Paper
Standard 14 pt
Paper
Economy
Economy 11 Pt. stock is a thinner paper that is both crisp and durable. It's a go-to stock for high-volume print as it withstands handling without creasing.
11 pt.
Standard
A traditional thick paper stock, 14 Pt is an industry standard. It is resistant to bending and withstands wear. Ideal for print that will be handled frequently.
14 pt.
Heavyweight
An ultra-thick stock that lives up to its Heavyweight moniker. It is a weighted paper that can be die cut, will retain its shape, and is hardwearing and sturdy.
17 pt.
Change
Numbering
None
Numbering
Sequential numbers are printed in black ink in 1 or 2 locations It is best to leave a white or very light area where you would like the numbers located.
Change
Perforation
None
Perforation
Tickets are perforated to allow them to be easily torn apart. If a perforation is needed please do not include a dotted line in your artwork.
Change
Colors
2 Sided
Colors
2 Sided
You will receive full color printing on both sides of your piece. (photo quality CMYK printing.)
1 Sided
You will receive full color printing on one side of your piece. (photo quality CMYK printing.) The other side will be white with (no ink.) Keep in mind that if you select the UV Coating option your blank back side will still be UV Coated even it it contains no ink coverage.
Same Art Both Sides
This option ensures that we understand you would like the same image on both sides. You will receive full color printing on both sides of your piece. (photoquality CMYK printing.)
If you are not clear on our color options please contact us at 800.433.9298 so that a customer service representative can provide you with further information.
Change
Coating
UV - High Gloss
Coating
UV High Gloss
UV Coating is a high-gloss finish with a laminated feel and sleek appearance. It improves durability, making print less susceptible to smudging and abrasion.
No UV Low Gloss
Also known as No Coating, No UV Low Gloss still retains a slight gloss, and allows for writing directly on your print with pencil, pen or Inkjet printer.
Spot UV
Spot UV is a coating that is applied to chosen areas (spots) of a print, highlighting that part of the design as it reflects the light and adding texture.
Change
Artwork
Upload Print Files
Artwork
Either Upload your artwork at the end of the ordering process or we can design it for you. You are in great hands! We will come up with an eyecatching design that you are sure to love. Our design team will make the process stress free and go beyond your expectations.
If you have any questions about design, please contact our Customer Service Department at 800-433-9298.
Change
Printing Turnaround
5 Business Days
TURNAROUND
Our standard Turnaround Time policy is in by 8pm, out by 8pm. What this means is that your order will be ready to either ship out or pick-up by 8pm EST on the last business day of the printing turnaround time that you have selected. The process will begin once your artwork has been approved by our artwork department. Our Artwork Department is open Monday through Friday until 8pm EST. Below are some examples of our Turnaround Time policy. For a detailed look at our Turnaround visit our Turnaround and Shipping.
Below is our schedule of production. In order for your order to be considered PLACED TODAY, your order must be submitted and approved by our staff by 8pm EST Monday through Friday. Please take our schedule of production into consideration when selecting your shipping preference: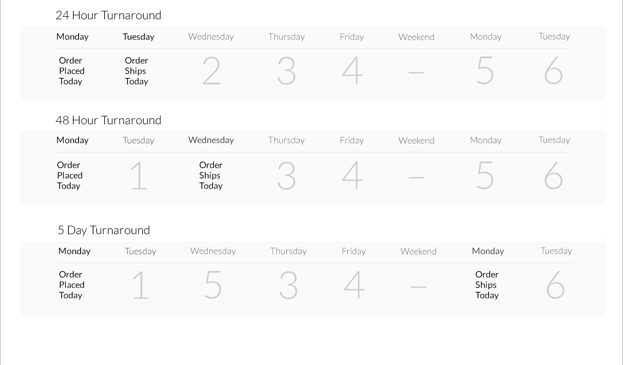 More Info
Change